Komponists Raimonds Tiguls aicina uz ikgadējo brīvdabas koncertu Tiguļkalnā.
2. jūnijā plkst. 20:00 jau septīto reizi Talsos norisināsies Raimonda Tigula brīvdabas mūzikas koncerts Tiguļkalnā, kurā būs dzirdama Raimonda Tigula un Pētera Vaska mūzika. Šogad Tiguļkalna ozolu ielokā komponists muzicēs kopā ar Gregorisko dziedājumu vokālo grupu "Schola Cantorum Riga" Guntara Prāņa vadībā un kamerorķestri "Sinfonietta Rīga" un tā māksliniecisko vadītāju un diriģentu Normundu Šnē. Lasīt tālāk...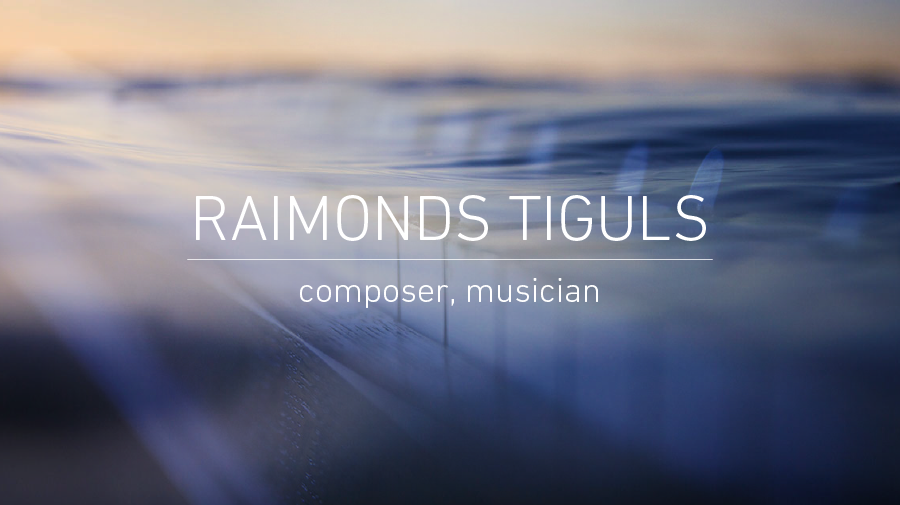 Raimonds Tiguls /1972/ is Latvian composer, musician, author and producer of many cd's released worldwide. He became known in 1999 as a representative of ambient and electronic music. The International attention he has gained for his albums "Moonlight Sound Design" and "De Angelis", released by the Latvian label UPE, and rereleased by the German record label ZYX Music, and, from 2000 to 2007, music from the albums was featured on more than 20 music collections in Germany, Switzerland and Benelux countries. In 2011, he released the project "Islands" together with singers from Iceland and Gotland.


Moonlight Sound Design


Music & lyrics & hang solo - Raimonds Tiguls
The Wartburg Choir
Conductor Dr. Lee Nelson



If you are interested in viewing the score, take a look at the preview .pdf bellow.
For ordering the score for your choir, please contact info [ at ] raimondstiguls.com. (To order the score in the USA, please click here!)

To order scores & recordings, please e-mail info [ at ] raimondstiguls.com or use this contact form: